Tri-Valley Drilling Service, Inc. offers contractors and developers a full range of capabilities when it comes to construction-related drilling services. We understand that every construction site is unique and that drilling services need to be completely tailored around the site. It's why, as a caisson drilling company, we work diligently to understand and meet the needs of every construction and bucket auger drilling project we take on.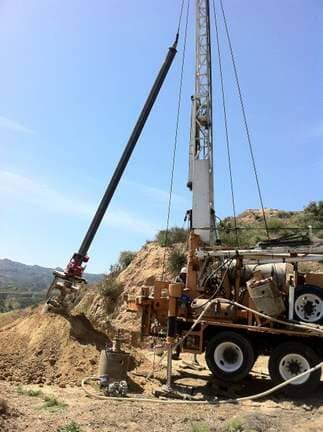 Seepage pits:
If you're developing a lot that doesn't have the capacity for leach lines or one that has low perc soil, contact us for seepage pit drilling.
Infiltration wells:
To tap into a natural aquifer or other nearby water source, allow our team to drill infiltration wells.
De-watering wells:
To ensure low saturation and proper draining of water on your development site, turn to us for de-watering well-drilling services.
Water well conductors:
When you need extra stability for your well or borehole, allow us to install water well conductors with precision.
Caissons:
If you need a caisson drilling company in California with a superior track record of results, look no further! We drill caissons efficiently for your site. Make your choice among caisson drilling companies easy!
Cell tower foundations:
When you need absolute anchoring that's sturdy enough to support a high center of gravity, contact us for cell tower foundation drilling.
Sign foundations:
We drill for signage foundations to ensure everything is properly anchored and stable for the duration of the installation.
Shade structure foundations:
For all of your shade structures, turn to us when it comes time to drill foundations and anchors.
We can drill to whatever depth is required by the parameters of your project and, for larger jobs, we employ bucket auger drilling in California to ensure the stability of boreholes. Choose the best among caisson drilling companies in California!
For additional information about our construction drilling capabilities or to discuss the drilling demands of your upcoming project in Ventura, Camarillo, or Ventura County, CA with us, please contact our geotechnical drilling team today by calling 805-643-3144.